Michelle Branch and Gin Blossoms Celebrate Centennial
March 15, 2012
Arizona Best Fest Phoenix
Posted on 2/13/12 by Erin Bartynski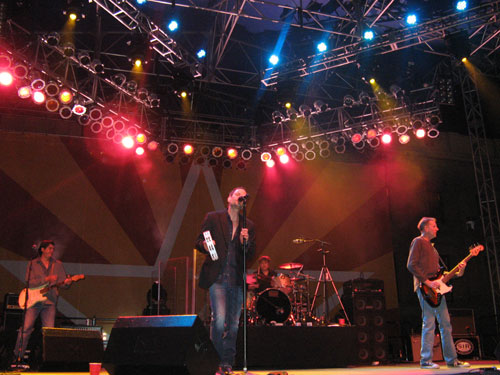 Gin Blossoms take the stage at Best Fest Phoenix.
This past weekend was the Arizona Best Fest in Downtown Phoenix, a two-day celebration of Arizona's upcoming centennial on February 14th. To sing the young state a Happy Birthday were two acts with Arizona roots, Michelle Branch (from Sedona), and the Gin Blossoms (from Tempe).
Michelle Branch sang acoustic versions of her well-known hits "Goodbye To You" and "Everywhere," as well as her Grammy-winning single with Santana, "The Game of Love." (Unfortunately, Santana didn't make a surprise appearance.)
The Gin Blossoms put on a good old-fashioned rock and roll show, playing the familiar 90's tunes "Follow You Down," "Til I Hear It From You," and closed both the show and the night out with "Hey Jealousy."
Before each of their performances, I got a chance to chat with Michelle and with Scott Johnson of the Gin Blossoms about performing at Arizona's Centennial celebration, and about their favorite hangouts in downtown Phoenix.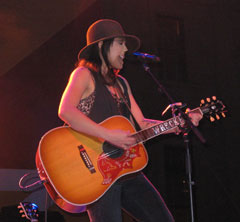 Michelle Branch
Michelle Branch
What does it mean to you to be performing at Arizona's Centennial celebration?
Growing up in my household, my dad has a family that goes back a few generations to early Arizona mining camps, so instead of saying, "Happy Valentines Day," he would wake us up and say "Happy Arizona Statehood Day!" So we grew up knowing that every year.
The thing that amazes me, having had the opportunity to travel around the world, is how young Arizona is — I mean it's only 100 years old, that's just crazy to fathom next to other states and other countries — so I'm excited to be a part of its young, young birthday
Do you have a favorite place to hang out in Phoenix?
My favorite, favorite place that anytime I'm coming through Phoenix I try to go to is Tee Pee, which I know they have a downtown location and on Indian School. They have the best margaritas and cheese crisps — they don't make cheese crisps in California, where I live now, and they're my favorite. I've been going there since I was a kid, so that's my first stop.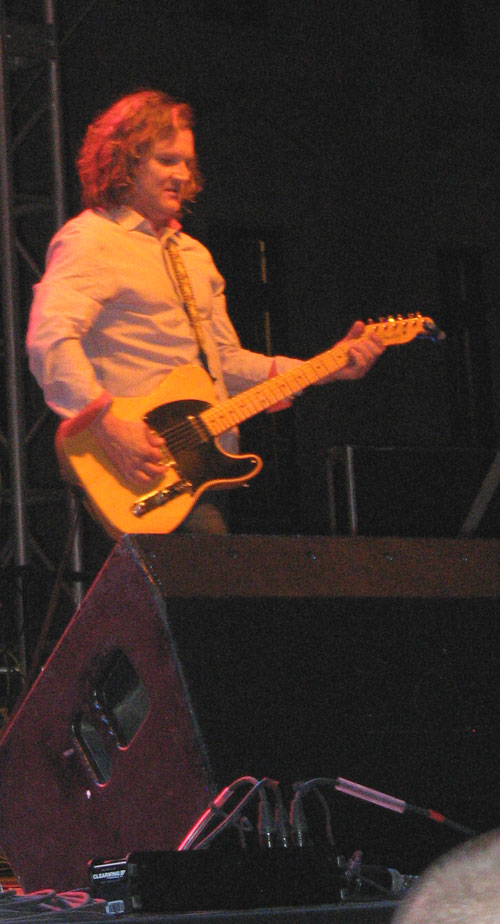 Gin Blossoms' Scott Johnson
Scott Johnson
What does it mean to you and to the Gin Blossoms to be performing at Arizona's 100th birthday?
It's really an honor; I'm absolutely completely honored and thrilled. I grew up here, I lived in Scottsdale, and I'm so proud to be an Arizonan. Whenever we play anywhere, we always make them announce, "From Tempe, Arizona, the Gin Blossoms!"
Where do you love to go when you come downtown?
I love Matt's Big Breakfast, (owners) Matt and Erenia are great…and Pizzeria Bianco of course, and Pane Bianco. I hang out at those places a lot. And then I do yoga downtown at SuTRA Midtown. So those are kind of my hangs.
Oh! And something else you should know, the Musical Instrument Museum is doing a Gin Blossom display for the Centennial. It's got displays on us, Alice Cooper, Linda Ronstadt, and more. So that's coming up in a couple of days!