Arizona artists to dazzle on Copper Dome Mainstage
March 15, 2012
FEBRUARY 8, 2012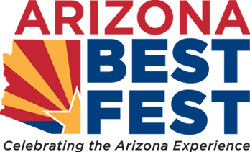 PHOENIX – The Arizona Centennial Commission and 2012 Foundation announces Arizona artists Michelle Branch, Gin Blossoms, George Benson and Jerry Riopelle, among others, as headline entertainment to dazzle the crowds on the concert-sized Copper Dome Mainstage at Arizona Best Fest Phoenix Feb. 11 – 12.
The 'party of the century' will dominate the Arizona State Capitol, Sat., Feb. 11, noon – 10 p.m. and Sun., Feb. 12, noon – 6 p.m.; and will span from 10th Avenue to 17th Avenue along Centennial Way (aka Washington Street), rounding the bend northbound onto Jefferson.  All told, Best Fest will feature eight stages of Arizona performers.
This FREE 'Arizona world's fair' of museum-quality educational pavilions, cultural villages, a Western town – is also the site of the climactic destination of the Arizona Centennial Motorcycle Ride.  Arizona Best Fest Phoenix also delivers an Arizona storytellers theater, Arizona wines, craft beers, Arizona 100 art show, a family fun zone, a motorcycle village and much more – to celebrate Arizona's 100 Years for residents and visitors alike to enjoy.
The Arizona Capitol Copper Dome Mainstage schedule to date:
Saturday Mainstage Entertainment Feb. 11
12:30 p.m. Marshall Trimble
1 p.m. Dolan Ellis
1:45 p.m. Rex Allen Jr.
2 p.m. Bi-Plane Flyover
2:45 p.m. Dennis Rowland & the Extreme Decibel Big Band
4 p.m. B25 Bomber & F51 Flyover
4 p.m. SRP's Second Shift
5:30 p.m. 'Salute to Arizona' with Governor Janice K. Brewer & Dierks Bentley.
Celebrate Arizona Centennial official mascot Copper Chopper completing its 17-month tour; plus Bentley's song HOME, Official Song of the Centennial Commission
Premier Cultural Performances from Villages and Western Town
6:30 p.m. Jerry Riopelle
7:45 p.m. Michelle Branch
9 p.m. Gin Blossoms
Sunday Mainstage Entertainment Feb. 12
Noon Arizona Cultural Performance Showcase
1 p.m. Ronstadt Family Traditions
2 p.m. Bi-Plane Flyover
2 p.m. Rex Allen Jr.
3 p.m. Esteban
4:15 p.m. B25 Bomber & F51 Flyover
4:30 p.m. Arizona Centennial Official Mascot Copper Chopper – Final Drawing
Governor Janice K. Brewer with Arizona bike designer Paul Yaffe
4:45 p.m. George Benson
*Times subject to change
The Arizona Centennial Commission, through its nonprofit Arizona Centennial 2012 Foundation, is the statewide board charged by Governor Janice K. Brewer with planning and implementing Arizona's 100th anniversary of statehood. In collaboration with the Arizona Historical Advisory Commission, more than 390 projects and events are sanctioned and planned-to-date to commemorate Arizona's Centennial. For information on the Arizona Centennial, visit www.AZ100YEARS.org.